I. Install the workspace
The installation of your workspace is to install Java, then Eclipse and add Android plugins.
IA. Downloads
IA-1. Java
IA-2. Eclipse
To install Eclipse, download it from the following page: http://www.eclipse.org/downloads/and choose "Eclipse IDE for Java Developers". You can put it on D: \ Eclipse.
Warning: never put space in the names of your workspaces, it will avoid you a lot of inconveniences.
IA-3. Android SDK
The installation of Eclipse is complete, you need to download the Android SDK:http://developer.android.com/sdk/index.html . You can then download it to a directory on your Eclipse so that you have only one place where your development tools are (you can put it on D: \ Eclipse \ AndroidSdk). We must now unzip the zip.
Then you can, but it is not mandatory, save in your environment variables (in the Path of your system) this new SDK by pointing it to the path of the uncompressed Android folder (D: \ Eclipse \ AndroidSdk \ android-sdk_r08-windows). This will allow you to use the SDK outside of Eclipse. Warning  : this step is mandatory if you want to use Maven. So, you need:
add the ANDROID_HOME variable that points to your SDK.
Warning: if you want to use the installer_r08 -windows.exe installer , you should know that it is incompatible with the 64-bit JDK version (as of January 21, 2011).
The workaround that works is to modify the registry keys.
Open Regedit, right-click [HKEY_LOCAL_MACHINE \ SOFTWARE \ JavaSoft \] and choose "export". Open the file in edit mode and replace the string "\ JavaSoft \" with the string "\ Wow6432Node \ JavaSoft \", save the file. Return to Regedit and in the top menu, click File-> Import and import your modified file. Close Regedit and restart the installer.
IB. Setting up Eclipse
IB-1. Install the Android plugin
Now, let's go back to Eclipse and put up the Android plugin. Select, via the menu, Help-> Install New Software. Press the Add button and enter Android name and location as https://dl-ssl.google.com/android/eclipse/ and click OK.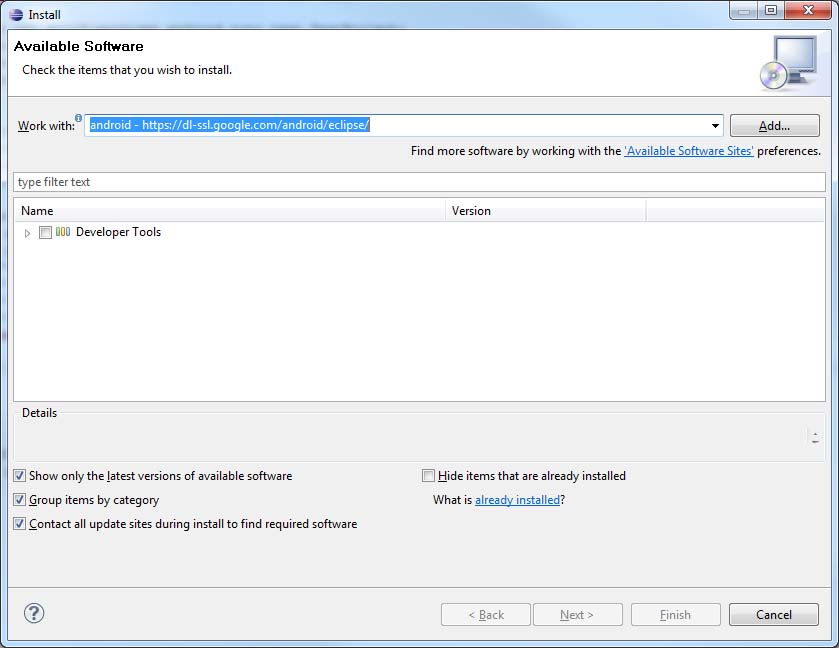 Select Developer Tools and press Next. When the warning window appears, press OK. When the installation is complete, restart Eclipse.
IB-2. Install the Android SDK
Also in Eclipse, we will now install the SDK. Go to Window-> Preference and select Android.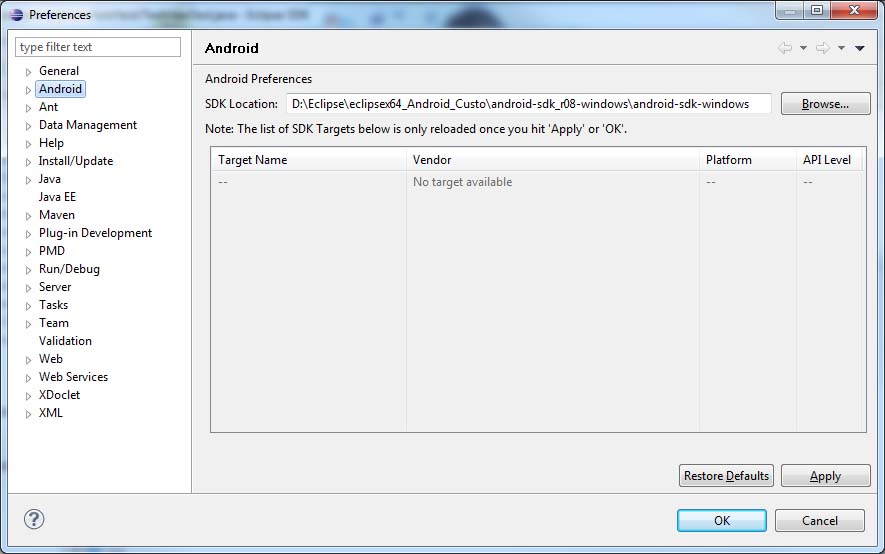 Place in the "SDK Location" field the location of your Android SDK.
IB-3. Configuring Eclipse plaugin
We continue by configuring the Android plugin. For this, Window-> Android SDK and AVD Manager.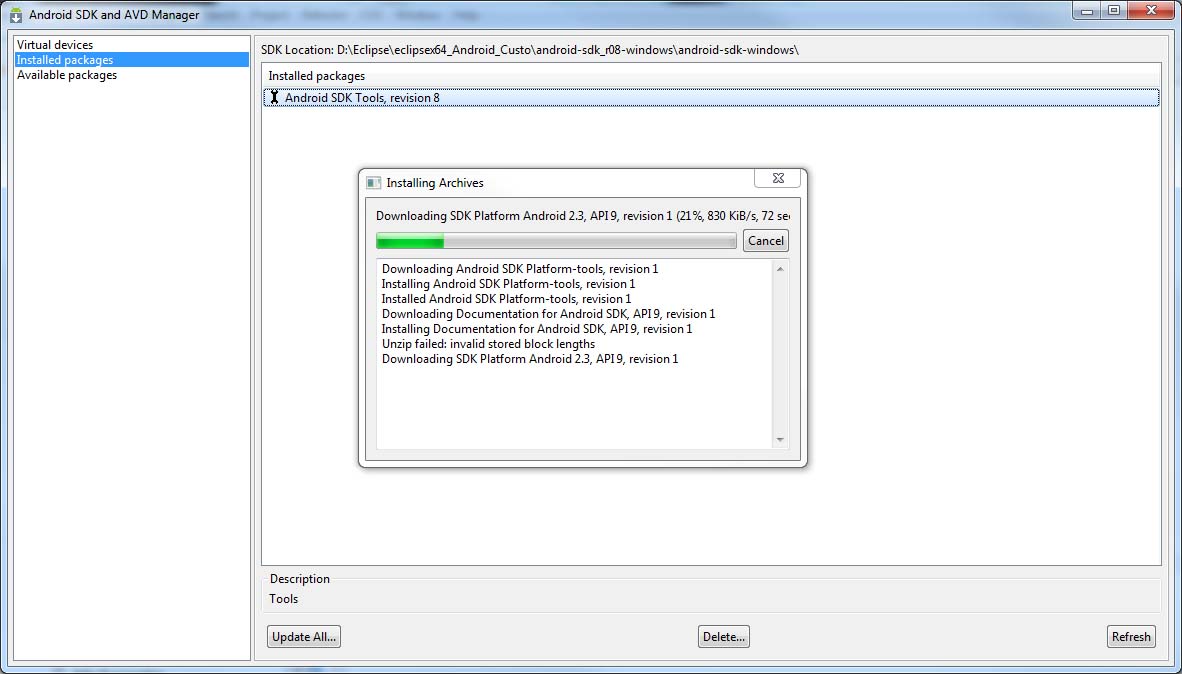 There, select Update All … (the button at the bottom) and start the installation.
Then do the same with Available Packages.
IB-4. Setting up Android Virtual Device (AVD)
It only remains to add the AVD you need. For this, always in the same window (Android SDK and AVD Manager), choose Virtual Devices and add the AVD you need. By default, it is recommended to install the AVD 1.5, 1.6, 2.1, 2.2 and 2.3 Android and Google with an SD card.If you have specific needs (sensors, specific devices), you can set them up later.
As of December 1, 2010, the Android versions that had access to the Android Market are:
| | | |
| --- | --- | --- |
| Platform | API Level | Distribution |
| Android 1.5 | 3 | 6.3% |
| Android 1.6 | 4 | 10.6% |
| Android 2.1 | 7 | 39.6% |
| Android 2.2 | 8 | 43.4% |
This data comes from Google statistics that you can find on:http://developer.android.com/resources/dashboard/platform-versions.html .
IB-5. Setting up your development key
The key, which we are talking about in this paragraph, is used to sign your application for deployment on the Android Market. But in the context of development, it is sometimes useful to position a development key (especially for the MapView).
For that, in Eclipse, click Windows-> Preference-> Android-> Build and point your key to the development keystore. The latter is:
for Windows Vista and 7, under \ Users \ <user> \. android \ debug.keystore;
for Windows XP, under \ Documents and Setting \ <user> \. android \ debug.keystore;
for Linux or Mac, under ~ / .android / debug.keystore.